Download all the stuff you want. All I ask is you that you click on the top banner. Not a very high price to pay!
Be a big shot with the kids! Render a Pokemon and paste into one of their pictures that you have scanned in. They will love it.
Models were created in Amorphium, mapped using UVMapper and Painter 3D. Pictures were rendered in Bryce. Check back I will be posting more this summer. If you use these models please reference this site and let me know. I would be interested in seeing the pictures.
If you want to share these with others please have them come here to download them. Thanks

Feature PokeGuy
9-6-99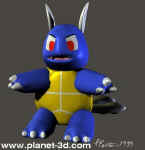 wartortleP4.zip (~400 kb)
File contains Poser model and textures.
Remember you can use these models for your own pleasure but do not use them in a commercial application or distribute them through another website, email, floppies, and etc.